A black Zoomer kitty might be a better choice for your child to play with if he or she is allergic to cats and at the same time your baby loves kitties.
I know exactly what it feels like. My youngest son loves cats but sadly he is allergic to them whenever he is near them. It is really painful to see him break out with rashes and having itchy eyes. He has to suffer for a few days to get better when he has a reaction.
I don't like the idea of giving him Benadryl all the time. Sometimes, it doesn't help either. I also have to have an EpiPen in the house and school for emergency use. This kind of pen is pretty expensive and it will expire after one year. That means every year I have to buy two EpiPens. I guess I can't save that kind of money when it is necessary.
This toy is a perfect pet replacement for my son. This toy is very close to the real thing. It can do a lot of things and moves and it is designed for the ages of 5 and up. I have found four other colors for this cat. If you want to see what it looks like, then you can do so by scrolling down a little from this post.
Table of Contents:
1. Video 2. Benefits 3. More Colors 4. Review 5. FAQ 6. Manual
Video
You might want to check out this video for this Zoomer kitty in real action. The video also has the Zoomer dog and the video is about 4:25 minutes long. I always like to watch a product in video first if it is possible and especially if I am brand new to it. I do find it very useful.
What can this toy do?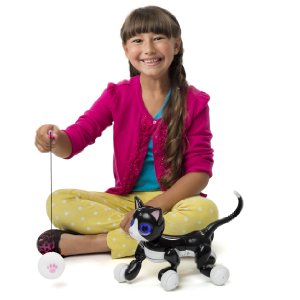 I am sure you will be asking what can this toy do? It is obvious you can play with it. 😛 Seriously, there are four modes you can make it to interact and play with you.
Those modes are Auto Mode, Play Mode, Pounce Mode and Cuddle Mode. If you left it by itself for a long time, it will automatically go to sleep mode. That is considered good to conserve battery.
This kitten also can show you its emotions with the changing eye colors. Let me explain what each mode can do.
Auto Mode:
The default setting is in auto mode when it is being turned on. In this mode, it can have green and light pink eye colors. It can detect your hand movements when your hand is in front of its IR sensors and it will also follow your hand. It will also react with your touch, such as it will purr when you pet its cheeks, ears and head. If you ignore it, it will wander off by itself, just like a real kitten does.
Play Mode:
In this mode, it will have blue color eyes emotion. It is more lively and playful. If you want it to follow you closely, you can use its toy or with your hands. It will stay as active as long as you continue playing with it. To enter into this mode, you would have to quickly wave at him with your hand in front of its eyes and its eyes will turn blue. You can also use its toy to do the same thing.
These are the following tricks it can do:
Sing
Dance
Run in a Circle
Jump off its hind legs
Knead its paws
Say "I Love You"
Break dance
Pounce
Wiggle
Say "Hello"
Bark Like a Dog
Prance
Cuddle Mode:
Cuddle mode will have purple and light pink eye colors emotion. If you keep on petting it nicely, it might fall asleep and it will stop going off to places by itself. It likes to stay closely by your side. To enter this mode keep on petting its ears, cheeks or head for three seconds.
Pounce Mode:
When it is in pounce mode, it will have yellow eye colors emotion. It will pounce at anything that is close to it. You can see how close you can get to it before it pounces you. To enter into pounce mode you would have to hold down the BACK BUTTON until its eyes turn yellow and to exit pounce mode just simply press the BACK BUTTON whenever you want to.
These are the following it can do when it is in Pounce Mode:
It can jump to your hands
It can jump at its included toy
It can jump at other objects.
More Available Colors
I think the black, blue and white colored ones can be given to the boys. As for girls, the pink, orange and white ones are good but the black or blue can be for girls too. You definitely don't want to give a pink one to a boy.
If you get the wrong color with your kid's gender, they might make you to go exchange it or they just won't play with them. Speaking of colors, my youngest son really doesn't care if it is pink or red in toys, he will just play with it when he thinks it is fun. I certainly won't buy him pink color toys. Hehehe….

Zoomer Kitty – Midnight -Amazon Exclusive


Zoomer Kitty – Pink Bella With Kitty Collar


Zoomer Kitty – Whiskers the Orange Tabby


Zoomer Kitty Zooey Snow Leopard Spots

What's included in this plaything?
Of course 1 very adorable Zoomer Kitty for little one to play with.
1 toy for your little one to play along with the cat.
An instruction guide showing you how it works.
A USB charging cable gives its battery a lot of playing time. All you have to do is charge it with your computer, or even from your car if it has a USB port. It works just like an iPhone or iPad. If you want to charge it directly to the wall outlet, you might have to buy the adapter separately if you don't already have one. If you have an adapter from either your iPhone or iPad, it might work.
Review
So far this toy is pretty popular among consumers considering it hasn't been out that long and has an average rating of about a B around 84% online. I consider a grade B is very good.
Pros:
Takes only an hour long for a full charge. It is pretty fast.
Do not need to buy those double and triple A batteries. Save more money for the long run.
A very close replacement for a real cat, if your kids have allergies.
Cons:
The playing time is short for about 20 to 30 minutes long.
Doesn't include wall charger.
The price might be a little pricey.
Bottom line:
I would buy this toy for my son considering he loves kittens and I really don't have any other choice due to his allergy. I think this is the best replacement I can find for him. This Christmas he is going to be very surprised and happy.

FAQ
While I was doing my research, I have found some questions that you might be interested in asking.
1. What kind of surfaces can you play on with this kitten?
It works well with smooth and flat surfaces such as hardwood floors, tiles, short pile carpet. It doesn't work with floors that are too slippery and deep carpet.
Can this be replaced from a real cat?
Most likely not. There are a lot of things a real cat can do, such as peeing in a litter box, lick their furs, eat fish, feel warm and others.
Manual
You can find the instruction manual by clicking here. The manual has about 8 pages and some of the pages are upside down making it hard to read on the computer. It might be a better idea to use an iPad or iPhone to read it, because you are able to flip the side on the screen. As you know a computer screen can't do that. The manual is about 811 KB in size and it is a PDF file. It actually has two languages. One of them is English and the other is in French.
I just figured out how to flip that upside down pages. All you have to do is click View –>>Rotate View –>>Clockwise. You need to look at the top left side of the PDF file to find those taps and you have to click twice on Clockwise to be able to get the correct view of the page.