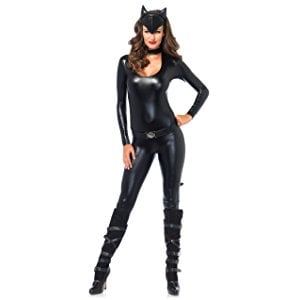 Hello cat lovers. Any of you looking for a black cat costume for adults for this coming Halloween? Well, I am interested, so I was on a hunt for a black kitty cat costume.
I want to be a little more sexy looking this year for the Halloween party and black is one of my favorite colors.
I have found two styles to my liking. I especially like the tail of these two costumes. It is super cute. Honestly, it took me a while to find them.
Mostly I was just too picky on picking one when it comes to costumes and fashion. Who doesn't want to look their best on a special event, right?
It makes you even happier if you get a lot of praise on the costume that you are wearing for the event. That just shows you have made the right choice of purchasing it and it is worth the money.
3 Piece Frisky Feline Catsuit Costume For Adults
This costume is made by the company named Leg Avenue. Have you heard of it? Honestly, I haven't until now. I usually don't care when it comes to name brands.
I only pick out a style that I like and I don't look at the brand. Of course I will have to consider the price. If I can't even afford to buy it, then I will look at other alternatives that I can afford.
This one is my number one choice and I most likely will buy this one. There are a lot of sizes to choose from for this style.
While writing this post, the price is reasonable and it has the following sizes in stock, XX-Small, X-Small, Small, Medium, Large and X-Large. It also has a size chart that you might want to check out. I recommend buying it as soon as possible while it is still in stock if you like it.
You may never know if the size you want will still be in stock at a later time,  especially when everyone is looking for a costume for Halloween. The size you want is usually not in stock, especially if it is a very popular item. I know what it's like shopping for my kids for a Halloween costume. Oh yeah, we usually wait for the last minute to do it and the style and size is always out.
For this costume I will go with a small size. I don't want something that is too big or too small. It is cool that it includes a belt, ear headband, and the tail is attached to the suit. The only problem is I need to find matching black boots. If you don't have matching black boots, you can check out some of them over here by clicking here. It has a lot of boot styles to select from.
The rating for this costume is really awesome and it is a bit more popular than the below one.
Catwoman Costume For Ladies
This one is made by Dreamgirl. It is a little more sexy than the above one or I should have said a little more revealing on the chest, arms and thighs. If the above one is out of stock on my size, I will definitely go with this style. This one still looks really good.
It really depends on your fashion preferences. You might go with this one first more than me. As of today the available sizes for this one are Small, Medium, Large and X-Large. The included items are attached tail, headpiece with mask and belt.
The boots and whip from the image are not included. If you want a closely matching whip, you can find it by clicking here. The material to make this catsuit is 100% polyester and it should be hand washed for cleaning.
The rating for this item is awesome as well. It is a little higher than the above one and that is because it has a lot less people who rated it.
Please note: If you decide to buy a costume online make sure it has enough time for them to ship it to you for the event. If not then you might want to consider buying it at your local store. That might be a better option.