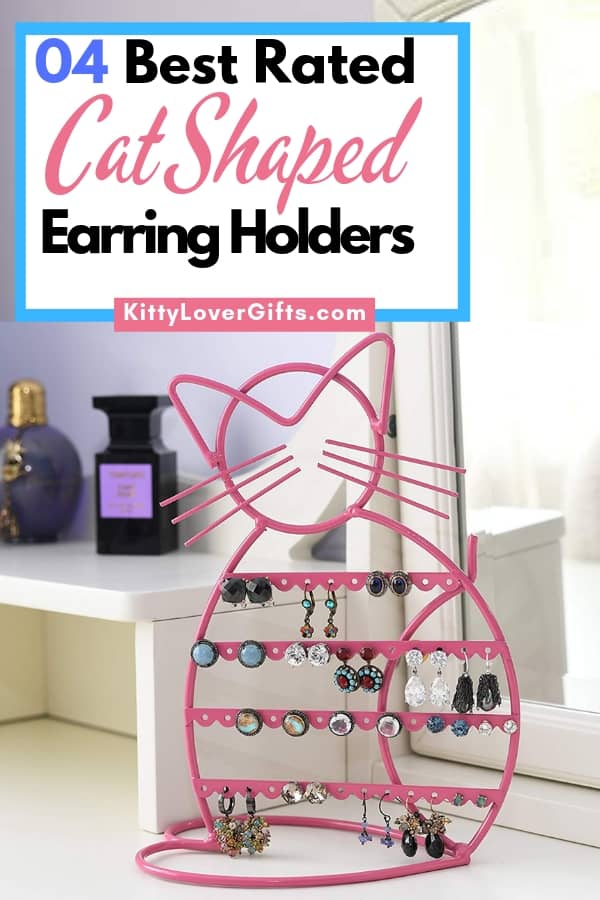 Ladies do you have a lot of earrings? If you do then how about a cat earring holder to organize them?
It is in the shape of a cat and I have found four different styles for you to select from.
Did I mention all four of these designs have very good average ratings?
I sort of picked out the ones that have the best ratings and look the best to me.
These earring holders are not that expensive like it will break your wallet.
I think the price is pretty reasonable and not to mention these holders can hold up to a lot of pairs of earrings.
Some parts of the holders can even hold some of your necklaces and rings.
If you have one of these holders, then it will be much easier to find them in one place and not getting lost. I mean if you lose one of the earrings then it can't be worn by just having one.
4 Various Styles Of Cat Shaped Earring Dispensers
All of the earring dispensers are made with sturdy wired metal that is lightweight for easy carrying to one place. The body is so smooth that it won't hurt your hands. If you are a seller in earrings then these earring dispensers will come in handy for showing off earring samples to clients.
1. ARAD Metal Jewelry Cat
You can find this style kitty in two different colors and they are in pink and black colors. Can you see the bottom of the stand is in a heart shape? Neat right?
This one can store up to 30 pairs of earrings. You can use both ears to hang your necklaces and the kitty cat's tail for the rings.
It is also possible to use the kitty's whiskers for more earrings. This is made of very sturdy metal material and it is very lightweight to move it around your place.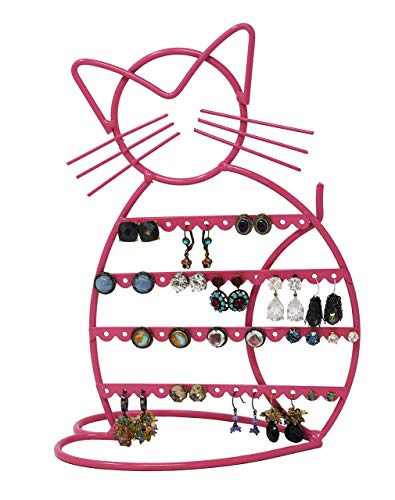 This is the most popular one when it is being compared with the other four. This little thing does not take up a lot of space. You can put it on your vanity, nightstand or other places. Here is the measurement. It is 7" W x 10" H x 4" D.
2. Bejeweled Cat Shape Antique Earring Holder
This cat's whiskers are curled. It is cool that you can use it to hold more earrings if your earrings are hook shaped. This one is more of an antique style.
You can choose between black and antique silver colors. I think I like the black color more, but silver is cool too. Oh yeah, there is also a copper color for this style. You can click here to see the copper color.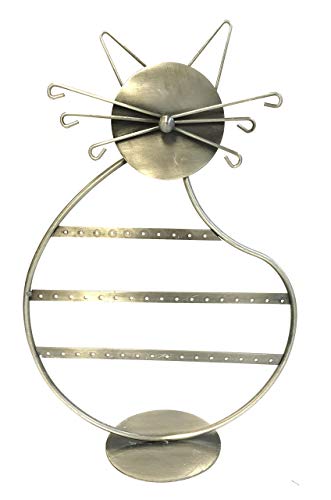 This one can hold over 56 pairs of earrings according to the seller. The measurement for this one is about 8 1/2 inches in diameter X 13 1/2 inches in height. The base is designed to be a little heavier, so that is to prevent it from tipping over or falling.
3. Blue Earring Jewelry Stand
Here is a blue color earring dispenser. Doesn't this kitty look cute? With all these holes on the cat, it looks like this kitty is wearing pantyhose. You can tell it can hold up to a lot of pairs of earrings.
I have seen this kitty made in light purple color too. Just click the below link to see what it looks like for the purple color one. It will show you if it is available in stock. If it doesn't show up, it just mean it is out of stock and it won't be available for you to buy it.
As you can see for this one's design, it has a tray as a base. That means you will have more space or room to hold your earrings, bracelets, rings and other kinds of your jewelry. Sorry, I can't find the measurement for this one.
4. Purple Cat Jewelry Stand Organizer
This purple one looks like a hat rack or hanger and the kitty is standing on top of it for decoration. It has three levels of racks and a base. The base looks just like the above blue one has a tray.
That is because the design is made by the same company. You can use any part of the stand for rings, bracelets, earrings and others.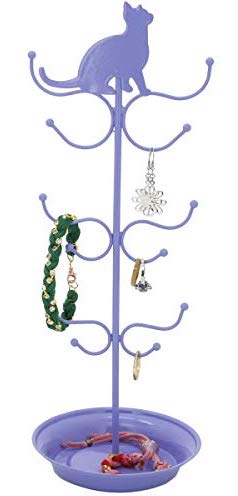 The measurement for the height is about 14 inches and the tray is about 5 inches.
All of these jewelry holders can also be given to little girls, not only adults. Little girls will be very happy to receive it if they wear earrings.