Are you interested in looking for a cat shaped wall clock with moving eyes and swinging tail? If so you might want to check out the below clocks. Just scroll down a little bit in this post or click here for a quick jump.
Having moving eyes and a swinging tail for a clock is a very unique and cool feature. Not to mention it looks cute and it does bring in a lot more attention when comparing with a normal one.
The clock on the left doesn't have moving eyes and wagging tail. It does have a shape of a cat in black color mosaic with a measurement of about 17 inch x 15.5 inches. The numbers are white color to see better and the moving hands are in silver. It requires one double A battery which is not included.
Some of you might just prefer to have only a shape of a kitty instead of having a moving tail and eyes. This kitty will look very elegant and beautiful on the wall and it is great to tell you the current time. It makes an excellent gift for a house warming party and holidays for your family and friends.
3 Moving Eyes and Swinging Tail Kitty Cat Clocks To Choose From
I have three colors and two designs for you to take a look at. The green color one is a limited edition clock that is supposed to be a lady kitty cat with big eyes and long eyelashes. I think it is kind of unique for a kitty cat to wear a pearl necklace on her neck. Doesn't she look like a sophisticated upper class cat?
I have to say you really don't get to see a kitty wearing a necklace that often every day, right? Now you can see her wearing it every day if you purchase it. I do know some people like dressing up their kitty on special days like Halloween and cold days.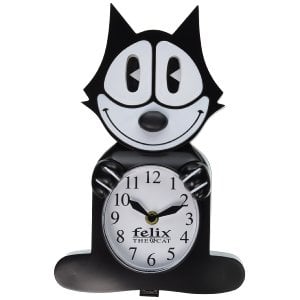 Felix the Cat 3-D Motion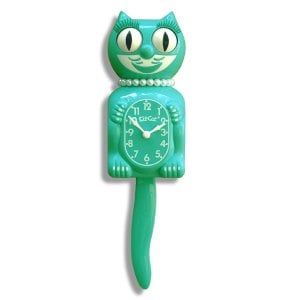 Limited Edition Lady Kit-Cat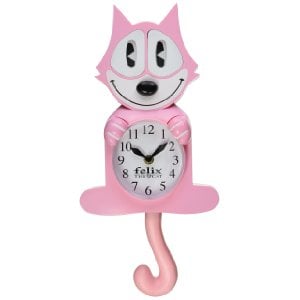 Pink Felix the Cat 3-D Motion

Don't know if this will affect your decision on choosing the right clock either for you or your family and friends, but the green Lady Cat one is made in the USA and I think the other two are made in China. Sorry, I'm not very sure about that. Some of you might like buying products made in the USA. As for me, I really don't care as long as it is made with high quality materials and is durable.
All three of these clocks require batteries to operate. The pink and black need 2 double A batteries and the green one needs 2 "C" batteries.