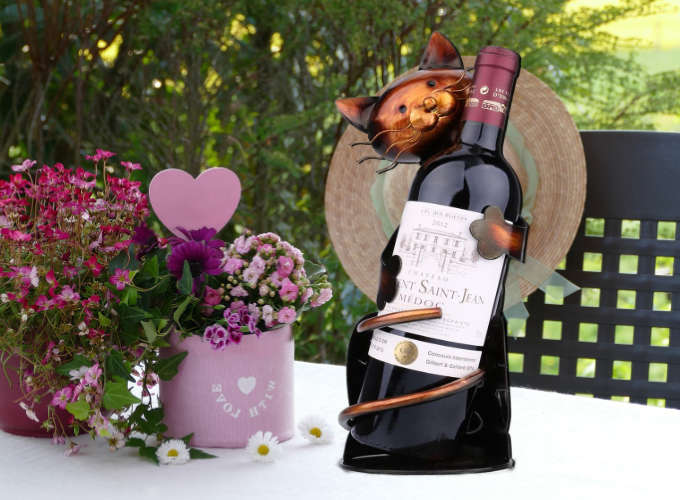 Do you love drinking wine? How about bringing a decorative cat figurine metal wine bottle holder to your dining table? It might add a little more flavor to your wine. It has a unique and exquisite look. You will surely be proud of owning it.
To me, it is a good idea to get a wine bottle holder to serve on the table if you love to drink and having guests over.
It just makes it a little harder to spill or drop on the floor or something when the bottle still has wine. I bet you don't like having to clean up that mess and not to mention if you are not careful enough you might cut your finger with the broken glass.
If that happens I do suggest to use a broom or brush to sweep it into a dust pan. You really don't want to touch the sharp glass with your bare hands. That way, you will most likely not have a cut and bleed. Just be a little more cautious and enjoy your wine. Cheers!
This will also makes a great gift for Christmas or birthday for someone who is a cat lover and loves drinking wine. On this post I will give you three choices of different styles to choose from that are made by the same company Tooarts. The most popular one on here is the first one and all three of them have excellent average ratings.
If it were me I would choose the first one. It's because I like the way it looks and it is showing that the kitty loves the wine very much, especially hugging it tight. You can't beat that expression.
What design is your favorite? Will you be owning one in your house?
1. Tooarts Cat Shaped Wine Bottle Holder
The design of this wine holder is the kitty using both hands to hold the bottle in place. It is handmade with baking paint and chrome plated iron material. It looks nice on both the kitchen counter or dining table.
Let's talk a bit about the measurements of this bottle holder. It is made in brown color with the measurements of 4 .6 inches for the Length, 4.3 inches for the Width and the Height is 3.13 inches. The holder weighs about 17.71 ounces.
2. Kitty Wine Bottle Holder With Cork Storage
This style is kind of cool to have. It has an extra storage to hold all your corks if you don't want to throw them away. I know for a fact that my hubby doesn't like throwing stuff away even if that object is broken and has no use. Yes, our house is full of trash but it is treasure to my hubby. LOL…. I guess some people just like storing things.
Using this holder is pretty simple. All you have to do is just place a standard wine bottle inside the holder and if you want to store away the cork just flip the kitty's head open and then put the corks inside the bin and then close the head to make it look better. It is pretty simple right?
This one is also handmade and crafted. It weighs about 9 ounce with the following measurements of 7.1″ D x 4.3″ W x 9.4″ H.
3. Cat In Yoga Design Wine Bottle Holder
To me this design is a little hilarious with the kitty cat in a yoga position. Well it will certainly remind you to do your daily yoga exercise. LOL……
This still looks pretty awesome. The price for this one is more affordable when it is being compared to the other two styles the last time I checked while writing this article. I guess you should go with this one if you are on a tight budget and still want to own a wine holder.
This item is made with refined iron and it is about 10.65 ounces. It looks pretty bright in golden color with the measurements of 9.8″ Length x 3.8″ Width x 4.2″ Height.
Thanks for reading. Enjoy your wine for the day!