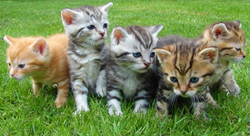 Hello, thanks for stopping by my about me page. My name is Michelle and I love cats. I am currently living in Texas with two adorable kids and a wonderful loving husband.
To be honest we currently don't own any kitties. We used to have a few. It is due to the fact that my kids are allergic to cats that we can't have them anymore. It is kind of sad we can't have them because all four of us love them.
The purpose of this website is to share available gifts for cat lovers. We all know it is hard to buy gifts for others, so to make it easier I put all the kitty gift ideas in one place to let you decide which one will be a better gift for your family and friends.
I hope you will enjoy your stay and that this website will be helpful to you.
Have a Nice Meow Day!