I am absolutely in love with this kitty leather shoulder backpack purse for girls. Well, I am not a little girl but I still love this bag and would like to have it. Who knows, maybe hubby will buy it for me on this coming Christmas. But I have to give him a hint to get it for me. Hehehehehe……..
I am not the only female adult who wants it. There are other female adults who want it for themselves too. It's because it is too adorable to resist.
I am more of a backpack type person instead of a purse. What I mean is I like holding it on my back like a backpack instead of a purse holding it with one arm.
I like the black color one because black color is not as easy to get dirty or visible like other colors. I have a white Coach bag as a Christmas present from my sister and it looks very dirty now and I haven't used it that long yet.
If you don't like the black color, then you can go with the rest of the other four colors like purple, brown, beige and khaki. They all look so pretty.
what I like about this bag is I will be able to put my Ipad in it and according to the measurements I should be able to put my MacBook Air 11 inches in it too. Are you curious what are the measurements for this back? According to the sale page, the measurements are 9.8 W x 12.2 H x 3.9 D inches.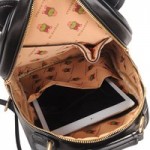 In the front there is a lower pocket with a snap button closure and inside the bag there is also another pocket with a zipper closure. That spot will be perfect to put your wallet in there. There are also two other compartments without any closures. That is the right place to put the Ipad.
As you can see from the above picture, it has two little cute ears in the front of the bag and with its eyes closed. On the side or middle it has a zipper closure. I think it is more secure than a snap closure. The straps are adjustable for comfortableness.
Review:
The rating for this bag is very high so far without much complaints. One or two users are saying it is a little small and wish it is a little bigger, but the other two are saying the opposite. I guess it is really depending on the individual.
To me it looks like it has a lot of room when comparing with my tiny little backpack to only be able to put my wallet, cellphone, notepad, keys and makeup. Mine is too small, I can't even put my Ipad in there and that is why I am in love with this little bag. It looks like the quality for this bag is very high too.
There is a costumer who is happy enough to make a video out of it. You might want to check it out or read more reviews by clicking here.